Get Migraine and Headache Relief With Chiropractic Treatment
Many of the patients who visit us here at The House Clinics, Bristol, present with frequent tension headaches or migraines, and both conditions can be incredibly debilitating due to the frequency and intensity of pain experienced.
A high percentage of migraines and headaches are caused by misalignment of the cervical spine and problems originating in the neck. So, the good news is that Chiropractic Treatment is proven to be highly effective as it aims to restore joint function in the neck, improve blood flow, and promote realignment of the whole muscular-skeletal system.
"Given the distress and disruption to life that migraine sufferers experience, it is very rewarding to be able to help alleviate the severity of the symptoms as well as prevent future attacks from occurring, " says chiropractor, Jonathan Cook. "Our approach in treating different types of headache is to take a full case history, conduct a thorough examination of the patient's spine and neck, and then advise on appropriate treatment which will depend on the findings."
In a study from The Spine Journal (2018), It was found that after a series of chiropractic adjustments, patients suffering from cervicogenic headache (headaches originating in the neck) experienced a substantial reduction in the frequency of symptoms and at least a 50% reduction in the overall severity of symptoms (Dose-response and efficacy of spinal manipulation for care of cervicogenic headache: a dual-center randomized controlled trial, The Spine Journal 2018).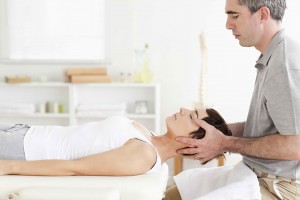 What types of Migraine and Headache can Chiropractic Treat?
Chiropractic treatment is effective for the following types of headache or migraine:
Cervicogenic Headaches